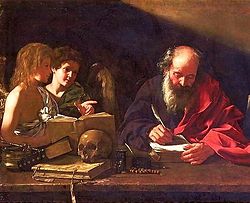 St. Jerome, Pray for Us.
Wednesdays Weekly Scripture Study:  Come one, come all, to learn more about the Catholic Faith through Scripture.  Each week we gather in the Rectory Conference Room, to read and reflect upon the upcoming Sunday Mass readings.
This group is led by our faithful parishioner, Patricia Platt.  The style of the meetings are both presentation and small-group discussions.
Wednesdays at 7:00 p.m., throughout the year.
---
Saint Jerome was an Illyrian Latin priest, confessor, theologian and historian, who also became a Doctor of the Church. He was the son of Eusebius, of the city of Stridon, on the border of Dalmatia and Pannonia. He was born around 342, Strigova, Croatia.  Died on September 30, 420 AD, Bethlehem.  His Feast day is celebrated on September 30.